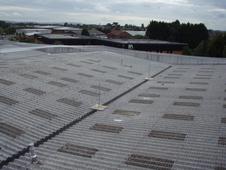 EnviroGuard's bird netting systems are a cost effective and long lasting ways of proofing buildings against all urban bird species. It is particularly effective for large open areas such as roofs, loading bays and over building facades, as one net can be used to protect many nesting and perching areas.
Bird netting is constructed from high density ultra-violet stabilised knotted 12/6 polyethylene being chemically inert and rot proof in addition to offering a high resistance to a wide range of chemical and environmental conditions. The nets range from 19mm gauge to deny the smallest pest birds, rising to 50mm to deny feral pigeons and 75mm gauge against seagulls. Colours can vary but are generally black, stone or translucent as standard.
| | | | |
| --- | --- | --- | --- |
| ENVIRO 19×19 | 19mm | House Sparrows, Martins | Stone, Translucent, Black |
| ENVIRO 28×28 | 28mm | Starlings | Black, Stone |
| ENVIRO 50×50 | 50mm | Pigeons | Black, Stone, Translucent |
| ENVIRO 75×75 | 75mm | Seagulls | Black |
Net Repairs
Nets can become damaged if snagged or vandalized, Enviroguard offer an onsite repair service to replace or patch damaged nets before birds regain access, which can offer significant cost savings over a full system replacement.
EnviroGuards specialist installation team, who carry out this type of work regularly, will attend your site, sign off RAMS and complete the work with minimum disruption.
Enviroguard are accredited and regulated by the British Pest Control Association and CHAS, giving customers reassurance that all work is completed safely and effectively.
Our 15 years of experience and knowledge of bird behavior ensures the result will be an installation that is sympathetic to the appearance of the building, whilst maintaining an effective barrier against pest birds.
All Bird Net installations are guaranteed for up to 10 years.